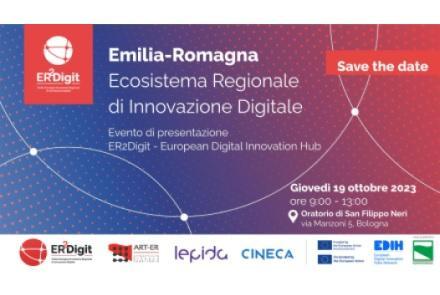 ER2Digit, the European Digital Innovation Hub (EDIH) of Emilia-Romagna will meet agents from Public Administrations and Enterprises to present its services dedicated to the territory. 
The meeting is going to take place in Bologna at the Oratorio San Filippo Neri (Via Manzoni 5) on October 19, 2023 from 09:00 AM to 01:00 PM. 
Starting from the challenges presented by the Digital Agenda 2020-2025, the event is going to offer food for thoughts and concrete solutions to address the digital transition and to respond to innovation needs. 
Speakers from the Emilia-Romagna Region, the Ministry of Enterprises and Made in Italy (MIMIT), ART-ER, Lepida and CINECA will take part to the initiative. 
During the day, the catalog of services offered by EDIH to Public Authorities and businesses in Emilia-Romagna will be presented, such as Test Before Invest, Training, Fundraising and Networking.
Subscriptions are open.